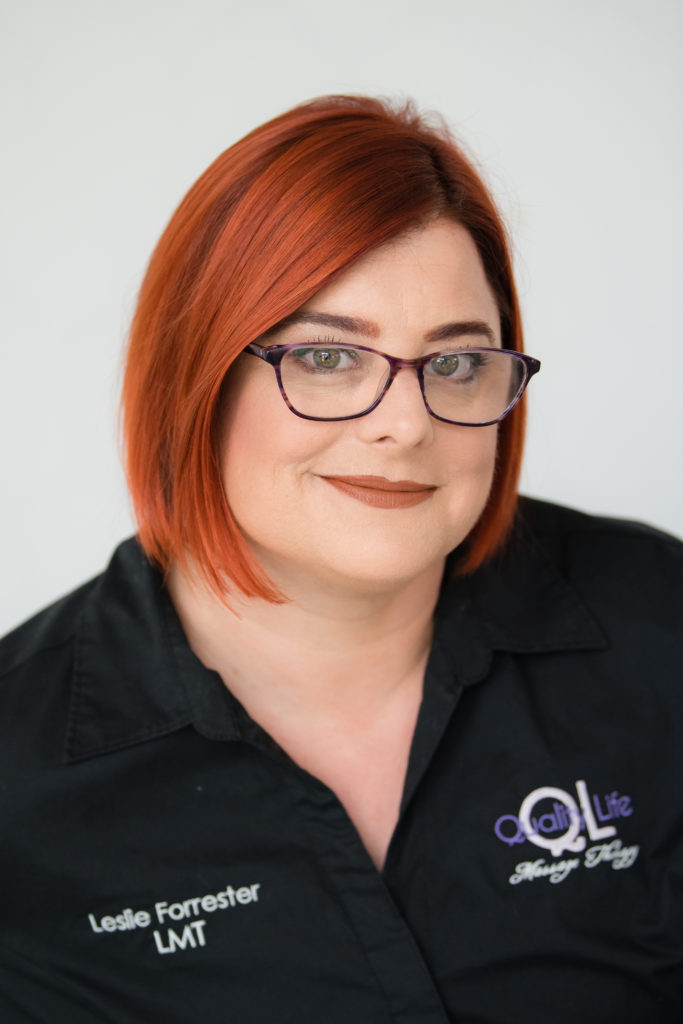 Leslie Forrester

I'm Leslie Forrester and I'm the owner and primary (usually the only…but I reserve the right to hire someone eventually) Licensed Massage Therapist at Quality Life Massage Therapy. I've lived in the Riverview area for 13 years, have a teenage son and am very active in the community. I'm a two time finalist for Business of the Year from the Greater Riverview Chamber of Commerce and in the Tampa Bay Times 2019 Best of the Bay People's Choice Awards, I took Silver in the Massage Therapy category.
When I went to massage school in 2010, it was a process to choose the best massage school in Tampa Bay – and I settled on Cortiva Institute in Pinellas Park. I wanted to pursue massage in order to begin a second career, one focused on helping people with pain and mobility by providing high quality and effective therapeutic massage therapy. Cortiva's program was targeted towards a western and medical style of massage, and I came away with a thorough grounding in Neuromuscular, Swedish, and Myofascial massage. I opened Quality Life Massage Therapy soon after becoming licensed, and have expanded from being a mobile therapist to having a small office within a salon and spa in Brandon, and then in 2014 expanded to larger office in Riverview, one with four treatment rooms that I rent out to other small wellness businesses.
Since leaving massage school, I've completed many hours of continuing education to expand my skills and have studied with World Massage Hall of Fame educators like Nathalie Cecilia (BambooFusion Massage), Anita Shannon (ACE MassageCupping), James Waslowski (Orthopedic Massage), and most recently have begun studying Neural Reset Therapy. I combine all types of techniques into customized individual sessions, focus on the positive outcomes for my clients, and am highly rated on various search and review sites. I firmly believe it's not a Quality Life without Massage!