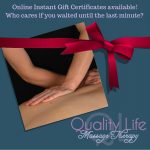 Buy instant online gift certificates that will be delivered immediately to your recipient.
I recommend that massage gift certificates only be given to people who LIKE massage and don't already have a regular therapist (that's the first time client massage) or have already seen me (the one hour session). If you aren't sure, ask them. People would generally rather be happy that you're interested in what they like than to be completely surprised.
Giving a gift that is difficult to use isn't optimal. I recommend making sure that the recipient will be available during the day during the week to schedule the session since my weekend availability is very limited and books up far in advance. I don't have evening availability.
My massage pricing and my menu are simple – $90 for a one hour session, $135 for 90 minutes. People simply pay for my time to receive a custom created session based on their needs that day. It is an all inclusive price – there are no upcharges for things like pregnancy, extra pressure, aromatherapy, hot stones, or the type of cupping that I integrate into sessions (either silicone cups or machine "Medicupping"), the kind that rarely leaves behind marks. Any combination of therapies that I do during the session is included in the base price, I don't do a membership style autopay and I discourage tipping in my practice.